+++ While driving to work today, I almost hit a mattress.
In the middle lane.
Of the highway.
Yup.
Where was the mattress owner?
Emergency lane watching while people were swerving.
+++ Late nights at work kind of suck.
Numbers at work did not add up.
SO...
guess who got to stay late to detect where the difference came from.
+++ The new season of Real housewives of New Jersey is great.
The last episode made me cry.
+++Seeing Jacqueline and her dedication to Nicholas.
Inspiring.
Seeing Nicholas say "I love you" in the last episode.
Tear wrenching.
+++ I think my feelings towards Melissa are starting to change.
I loved her the last couple of seasons.
But I am seeing differences in her this season.
+++ I was surprised to see a
shout out
on
this
lovely lady's blog!
I have been reading her blog for a while and she is a favorite of mine!
So, Mrs. B The feeling is mutual!
+++ Does anyone else feel like bras are uncomfortable at times?
Do they make you feel...
trapped?
+++
This
lady mentioned The Babysitters Club in
one
of her posts.
Now I am obsessed and HAVE to make my way to Netflix.
Get ready for a Netflix addiction ALL over again!
+++ How do you approach a friend that you KNOW is hurting?
Nothing I can say will make it better for them.
How do you let them know that you care?
+++ If you have not done so already, follow me on
Bloglovin'
+++ Why the hell is the weekend taking forever to get here?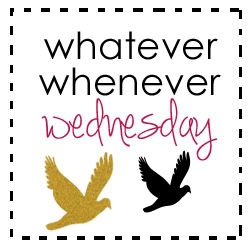 xo