It's Friday...

My last day of work.
The last day of the week.

Hello weekend.

We do not have much planned this weekend.
Thank God.
I am looking forward to a relaxed weekend with my love.
No responsibilities.
Nothing.
Just fun.
...and maybe a
lot
little bit of The Sims.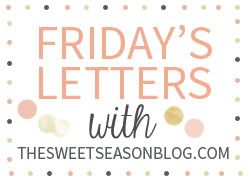 Dear Baby
You are amazing. Our conversation last night showed me (again) how amazing you are. I am still awed by how you reason and rationalize situations.
Dear current soon to be past job
I am actually sad to leave you and say goodbye. You gave me the opportunity to meet some great people.
Dear dark, dry patch of skin on my butt cheek
please leave. I am tired of you and am ready for you to say goodbye.
Dear bloggers
Sorry for that patch of information. Too much?
Dear Baby
I think it is time to get furniture for the guest room slash MY arts and crafts room. I am ready to unpack all of my books and arts and crafts! Oh and I am ready to have a room for visitors.
Dear Kindle
I have had you in my reach at all times in the last few weeks. I love it. I am kind of addicted to you!
Dear bloggers
I hope you have an amazing weekend!
May it be lazy, relaxing, and refreshing.
XO