Yesterday's post was heavy and I feel so much better after letting that out. Thanks for reading and putting up with my depressing post.
To lighten up the mood, I decided that I would inform all of you of the things that have brought a smile to my face lately... hopefully they bring a smile to yours.
+First and foremost, you have to watch this trailer.
How excited are you to see this movie?
I am absolutely ecstatic.
I cannot wait!
+ I read somewhere
(on a blog or an online article)
that it is important for couples to go to bed at the same time. You don't have to go to sleep, you just have to be in bed together. This is something that Colon and I have been failing to do the last couple of months.
He
has been so busy with school and studying has been forcing him to stay up until the wee hours of the morning.
I
have to wake up early and always end up in bed by midnight the latest.
SO, I thought we could try out the "in bed at the same time" thing and mentioned it to Colon. Ever since I have mentioned it, Colon has actually made an effort to make it happen. Such a sweet boy.
+I recently discovered
this
blog by Dan Pearce and he has quickly become one of my favorite bloggers. The last couple of posts that he has written has had me in tears. I have taken an instant liking to him and wish that we could be friends!
+I am loving the Christmas music and all of the Christmas decor that has been popping up everywhere. If only it would snow in Florida...
+I have completed my Christmas gift list and have bought half of the gifts. Now I have to finish buying everything and my bank account is yelling at me right now!
+ This video from last year is awesome!
Can you tell that I am in the Christmas Spirit?
...and I am going to link up. Even if it's not Wednesday :)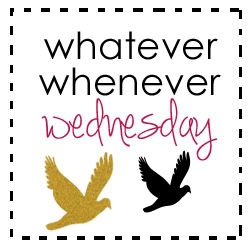 XO