Such a lazy Sunday and I wouldn't change anything about it! I caught up on the rest I desperately needed and woke up refreshed. So refreshed that I decided to go to the gym. Wait...what? Let me repeat:
I went to the gym.
Yes and I felt amazing after I went. I then took the time to clean Norton's tank. He definitely needed it. That has been my day in a nutshell. It's been filled with TV watching, waiting for Colon, and uber laziness.
Oh, do you know what has been consuming my thoughts the last 2 days? Huge, overgrown, giant roaches. It all started yesterday. I was taking a shower and all was well. I then pulled on the towel from the shower rod and something fell on my head. I freaked and then the thing on my head fell on my foot. Guess what it was...
If you guessed "roach" then you are correct. I yelled and screamed and jumped out of the shower. Yeah. This was traumatic. I could not stop thinking about it. Then, this morning I noticed a HUGE roach crawling in the corner of the room. Bah. You can imagine how freaked out I am. I'll be sleeping with roach spray on my bedside table.
Anyways... since I have nothing else to write about (Yes... my life is quite boring), I am going to participate in the
Sunday Social link up
.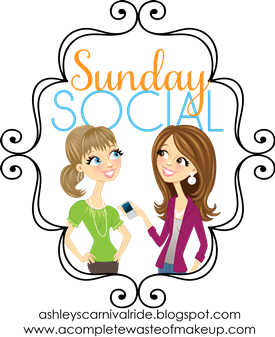 1. Name 4 jobs you've had in your life:
* a Chemistry stockroom assistant
*Leasing specialist for
Gainesville Place
(I highly recommend this complex for students looking for housing in Gainesville)
*Rental manager for an apartment complex
2. Name 4 movies you would watch over and over:
*The whole Harry Potter series
*The Lord of the Rings series
* Home Alone movies (The one's with Macaulay Caulkin)
* He Loves Me... He Loves Me Not
I guess that makes it 14 movies...
3. Name 4 places you have lived:
* Pensacola, Florida
*New Orleans, Louisiana
*Miami, Florida
*Gainesville, Florida
I'm a Florida girl!
4. Name 4 of your favorite foods:
* Rabo encendido ( I will devour the Cuban style dish all day everyday! For those that do not know what it is, it's an oxtail stew. YUMMMY!!!!!)
* Sinigang (Filipino dish)
*Lumpia (Filipino eggrolls)
* Basically anything Filipino and most Hispanic foods
5. Name 4 things you always carry with you:
*Phone (Android not iPhone!)
*Monies whether it is in a wallet or not
*Tampons (If I don't need it, someone will. Might as well have them.
*Kindle. You never know when you will need it!
6. Name 4 places you have been on vacation:
*St. Lucia
*Dominican Republic
*California
*New York
Much more, but these are the ones I thought of immediately.
...and I think I'll go. Much love everyone and hope your weekend has been as relaxing as mine has been.
XO